The name "Apologia" brings with it the confidence of quality education and instruction. So, when I heard that
Apologia Educational Ministries
had published a book for homeschool moms, I knew it had to be good.
Flourish: Balance for Homeschool Moms
is a brand new book written by Mary Jo Tate.
Imagine, if you will, a flower. It is washed out and a faded with drooping leaves planted in parched and thirsty soil. Now imagine a more vibrant flower--one that is bright red with moist green leaves planted in rich, fertile soil. Which flower would you choose to be? I think we'd all choose the latter, the flower that is flourishing, much the same way we homeschool moms would rather flourish as we home educate our children than just barely keep our noses above water. That's what this new book,
Flourish
, is all about.
What do we need in order to flourish in our homeschools? No doubt you may have answered, "time!" Well, Mary Jo Tate gives attention to that in several chapters. She also covers topics like setting goals, planning, and boundaries. The second half of the book gets a little more personal and specific. She talks about attitudes, taking care of "you," training your children, making memories, managing your home, the ins- and-outs of homeschooling. The books culminates with two very specific chapters: one just for single moms and one for moms who also run a home business.
I have never read a book quite like
Flourish
. There are how-to-homeschool books, how-to-manage your time books and how-to run a home books. This book is unique in that it shares how to basically manage all of life as a homeschooling family, not just certain aspects separately. So much is included in the pages...all based on the fact that you, as mom, home educate your family. Mary Jo Tate understands from years of experience that homeschooling really does affect most everything else in your life. All of this advice and encouragement from Mary Jo is also based on God's Word.
The first time I sat down to just read "a little bit," and found that I had finished 3 chapters in no time.
Flourish
is a very easy read in that it is very easy to follow and is so engaging that you just don't want to stop reading. My book is full of underlined phrases and stars indicating parts I really, really liked or want to try. I will definitely be re-visiting this book as a reference book and a source for encouragement to do better and to be better.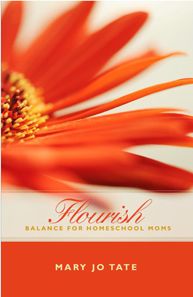 The Product:
The cost: $15
Paperback, 290 pages
Who would benefit from reading this book?
Moms thinking about homeschooling
Moms just getting started homeschooling (Oh, how I wish I had read this 8 years ago!)
Moms in the midst of homeschooling. (A good "shot in the arm" to get you going again!)
Single moms home educating their children
Moms with a home business and homeschooling
Anyone who loves a homeschooling mom and wants to better understand their needs.
Some of my favorite quotes from Flourish:
(I just love a good quote! This book was FULL of them!)
"Develop the habit of asking yourself, 'What am I saying no to when I say yes to this choice? Are there any hidden costs?'" (I was able to put that into practice this week, saying "no" to something I knew would cost me time away from my family and added stress!)
"...commit your goals to writing." (I did this for the first time in a long time...a great exercise for me.)
"'How do you do it all?' I don't, and I redefine 'it all.' Nobody can do it all. (How freeing!)
"As you plan your week, be sure to include the important things, not just the urgent things." (Oh, how easy it is to get caught up in the urgent when the important is so, well...important!)
"Inspect what you expect. That's how you add accountability to independence."
About the Author:
It is easy to get to know Mary Jo Tate as you read her book. She is a long-time homeschool mama of 4 boys and even runs her own at-home business. She is a radio host, author, international editor and book coach. Mary Jo even makes time to teach high school literature at a co-op and blog at:
http://flourishathome.com/blog/
. What's amazing is that Mary Jo does all of this as a single mom. She is full of insight and wisdom.