Good in-depth Bible studies are hard to find. They are even harder to find for teenage boys. That is why I was thrilled to get a chance to review (and my son to get to read) a wonderful Bible Study for young men published by
Doorposts
:
Because You Are Strong
.

Because You Are Strong
is an approximately 15 week study on Godly Strength for young men. This is so much more than your typical "daily devotional." Your son will really
study
the Bible. I asked my son if he is enjoying the study. He said, "Oh, yeah!" I asked him why. He told me it was the Bible study tools he is learning to use. These tools (and skills) will help him with Bible studies throughout his whole life.
This Bible study contains 10 studies, with 5 days in each study. Each study takes anywhere from 5-20 minutes. Studies cover things like: meditating on a certain passage, topical studies, character studies, word studies, verse studies and more. (With all studies focusing on Godly strength.) There are additional "For further study" ideas given at the end of each chapter. This could extend the study for as much as a year. (My son plans to do these at the end of the 10 studies.) This book is written with young men in mind, but young ladies would also benefit from this study. There are alternate questions for young ladies in the back of the book.
My Preacher Husband had most of the Bible Study tools needed, but we purchased some Bible Hi-lighters and the Nave's Topical Bible to help our son complete this study.

Cost of Product:
This Bible Study typically sells for $14....but is now on sale for $12*
See for yourself!
Suggested Age Range:
This study is suggested for ages 10 and up.
(It seems perfect for my 15-year-old.)
A few last thoughts...
My son and I tried to think of anything we didn't like about this study. The only "negative" we could come up with was that in order to get the full benefit from this study, you do need to purchase/borrow/find online some Bible study tools. (Nave's Topical Bible, Bible Atlas, Strong's Concordance, etc.) But...we decided that this is actually a positive, since this gets you headed in the right direction of having these Bible study tools to use for the rest of your life.
The biggest thing for me was to see my son really enjoying studying the Word! I loved "treating" him to new HI-lighters and a Nave's Topical Bible. I really loved seeing him use them. I know he has enjoyed sharing with his preacher-dad how much he is learning! (And I know his preacher-dad loves it when his oldest son asks, "Dad, can I use your concordance?")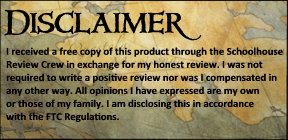 *All prices were correct at the time this review was posted. Prices are subject to change.