As Christian parents, we want our children to read the Bible. Actually, we want them to
want
to read the Bible. I think many of us feel a tug--we might not feel comfortable
making
our kids read God's Word, but we don't want to leave it totally up to them either. I found that the
Draw to Learn Proverbs
devotional from the
Draw to Learn
series by the
Notgrass Company
helped me strike that balance with my youngest child.
What is Draw to Learn?
Draw to Learn
is a Bible and Art Devotional series. Notgrass has published 5:
Draw to Learn Proverbs
,
Draw to Learn Psalms
,
Draw to Learn the Letters of Paul
,
Draw to Learn Acts
and
Draw to Learn the Life of Jesus
. Each spiral bound book contains 150 lessons. (Designed to coincide with the approximate number of days in the homeschool year--with some wiggle room for flexibility.) Each day, there is a passage to read from the Bible. There are instructions to follow as to what picture to draw in the blank frame on the page. The drawing process helps with two things: It allows your child to practice his/her creativity and it helps them to solidify what they have just read from God's Word.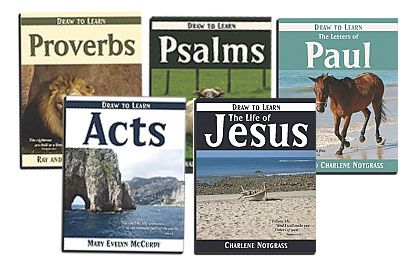 Our experience:
We are using Draw to Learn Proverbs with our 12-year-old son this year. I thought that this particular devotional series would be perfect since he loves art. He has really enjoyed it. I'm thrilled because I know it is helping him to hide God's Word in his heart!



First Step: Read the passage. Sometimes there is just a few verses, sometimes more. By the time my son finishes the book, he would have read the entire book of Proverbs. I like that!
Second step: Think about what to draw.
Third step: Draw!
Here are some pages from my son's book:
(There are just a few pages similar to this first one; most are totally blank.)
My all time favorite! (So funny to see how your child "sees" you!!)
Age Range:
Draw to Learn is for all ages. For independent work, obviously your child would need to know how to read the Bible and follow written directions. Younger kids who are not yet reading could get help with the Bible passage. Another option would be to do this as a family.
Cost of Product:
$14.95 each for the consumable books
Ebooks are available for $9.95 each
A few other notes:
*Notgrass gives guidance at the beginning of the book. They tell you what supplies to collect, give tips on drawing and give suggestions on how to expand the study. That was all very helpful information.
*I think this devotional series is best suited for those who already love to draw. If you are using it with a "reluctant artist," I'd probably first take them to the art store and let them help choose some nice art pencils for motivation.
*The authors of the book are Ray and Charlene Notgrass. They were homeschoolers for 20 years and now develop homeschool curriculum through their family busisness.
Other Products from Notgrass: