The arrival of
Family Time Fitness
came at the perfect time~~right around the time of the Olympics. My kids and I were already inspired by all the athletes and their training and dedication---and then Family Time Fitness pushed us a little farther!
We used (and will use all this school year!) the
Core 1, K-8 Curriculum
. It is physical education curriculum, designed to use every school day for a year (There are 260 lessons!) The age range is Kindergarten through 8th grade. Lessons come in a down loadable format. There are video demonstrations for every exercise and activity. Each lesson takes about 30-45 minutes to complete. The cost is just $57 for the entire program.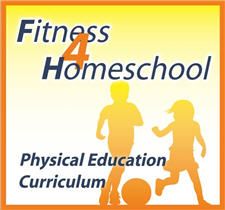 Included in each lesson you will find the following:
List of skills taught for that specific lesson
Equipment needed (very basic things like jump ropes, hula hoops, cones, balls, etc.)
Suggested recovery time (how long to rest after each activity)
Warm-up activities/exercises
Activity/Game Play
Cool Down
Outdoor Activity (optional---adds 10-15 minutes)
Additional Features that come with the Curriculum:
Physical Fitness Assessment Tool: Every 6 weeks you test certain skills (like how fast you can run a mile). There is a log to record your times for each.

Nutritional Logs

Meal Planner

Reminder/encourager emails

Access to online webinars and much more!!

Note: this is a one time purchase for your family! You don't have to pay a renewal fee year after year.
Family Time Fitness 4 Homeschool is set up with families in mind. (Not a classroom of 25 children)
You will not have to modify a thing.
Our Homeschool's Experience:
After downloading the program, I took some time to read the introduction. There were two statements that really stuck out. The first was: "Just like other academic disciplines, physical education must be taught." My children are always active either in sports or just playing outside. They even attended a homeschool P.E. class for a year or more. Beyond that, though, we have never had an organized "P.E." as part of our homeschool curriculum. Family Time Fitness has completely changed my mind on this. After just using Family Time Fitness for a short time, I can already see improvement in not only certain skills with my boys, but with an overall desire for physical fitness.
The other statement from Family Time Fitness that struck a chord with me was, "Physical activity helps to activate the brain and improves on task behavior during the other academic instruction time." I have always known this intuitively...many times if my kids were in a "slump", I'd send them outside for 30-45 minutes. It always helps. Now, with Family Time Fitness as part of our weekly schedule, it is already worked in. We found the best time of day for us to be an hour before lunch, or an hour after.
Before we began the lessons with Family Time Fitness, we took a few days to do some of the assessments. My boys really enjoyed and were very motivated by this. For example, my children have, on their own, worked on improving their running time. The other evening they ran around the house up teen times. They want to beat their last time on running the mile. Assessments are scheduled every 6 weeks. Being boys, competition comes easy.
After several assessments, we began the lessons. To start, I'd print out the 1-2 pages of instructions, so that I could have them on hand. I then watched all of the video demonstrations, to ensure we did all the exercises properly. Those were VERY helpful. We are fortunate to have a gym at our church, so we had some "P.E." times there. The other day it was nice and cool outside, so we had fitness in our backyard. I think the gym worked out better, but it was easier and quicker to just walk out the backdoor. Some of the warm-ups we did in our living room. If you have a basement or other large room, most everything could be done there as well.
My kids enjoying some outside play: jump rope!
Jump roping was not scheduled for this day, but something we all enjoy doing...so we added it on.
We also added all 3 of us doing jump rope together...2 turning the rope and one jumping. Great memories!
Most of the time we have been using Family Time Fitness, I kept calling it "Family Fun Fitness". I did not do this on purpose...I just called it that. I think it's because it is FUN! The thing I loved most about it is the same reason I love homeschooling....time with my kids. Family Time Fitness not only gave me TIME with my kiddos, but ACTIVE and FUN time with them! My boys really got a "kick" out of their mom doing all of these exercises with them! And mom had a great workout...another plus! I usually do my exercising before or after we do school each day...it's great to have my personal exercise built into our homeschool day!! The age range is K-8 on this product, but let me assure you...it is great for all ages!



Jumping over a rope 20X on just one foot! Great workout for my kids (AND ME!!)
(979)209-0778
Other products from Family Time Fitness:
Disclaimer: As a member of the TOS Crew, I received this product, at no cost to me, in exchange for my honest review. All opinions are mine.
To read what other TOS reviewers said about Family Time Fitness, go
HERE