Last night, my boys and I sat down with a big bowl of popcorn to watch the "
The Historic Expedition of Lewis and Clark, We Proceeded on
" DVD. This is one of the latest releases from
Marshall Publishing
. We were excited to watch it since we'll soon be taking our own "expedition" out West. (Although our hardships will consist of things like trying to find a restaurant everyone agrees on....a far cry from eating candles like Lewis & Clark and their crew had to do during one of the toughest parts of the journey!)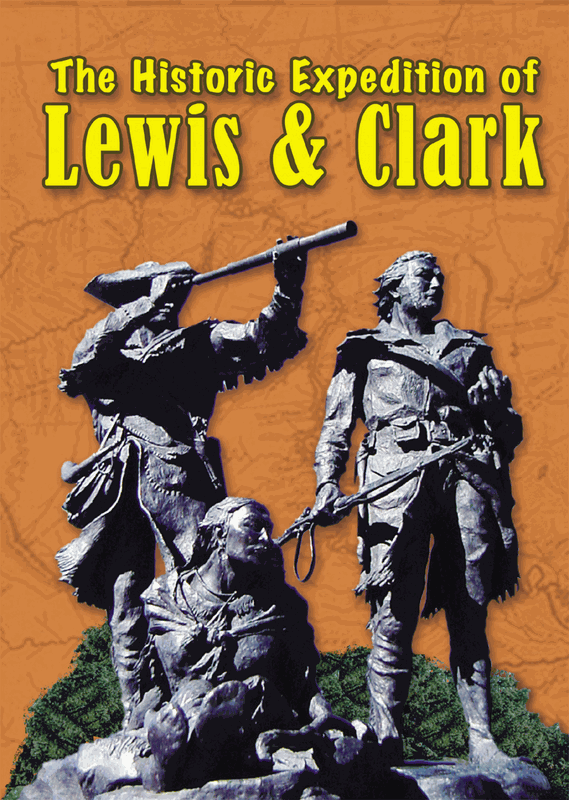 A Description from the Publisher:
"The journey of Lewis and Clark stands as a true epic in documented exploration of the West. From 1804 to 1806 Meriwether Lewis and William Clark led the Corps of Discovery on an 8,000 mile journey into the unknown. Starting at the meeting of the Missouri and Mississippi Rivers, they traveled by foot, boat, and horseback--all the way to the Pacific Ocean and back.
This is the story of that exploration, complete with diary excerpts, encounters with Indians, the sometimes beautiful and sometimes threatening landscape, and a summary of the objectives and accomplishments of this extraordinary team.
Beautiful photography, live re-enactments, illustrated maps and rare photographs make this historical adventure come to life and one that will entertain and educate all age groups for years to come."
What we thought:
Meriwether Lewis and William Clark are no strangers at our house. My father has been enthralled with the history of this expedition for many years, and has passed on his interest (and several books!) to my children. We also studied them about 2 years ago in our homeschool. I was curious what my sons would think of the video, since they knew so much already.

We think Lewis and Clark were so cool, my oldest dressed up as one of them last Fall Festival!

As soon as the DVD began, one of my son's first comments was, "I really like the music." During the movie, we were all focused on the film. It really held our attention. There was a mix of pictures, maps, "live" footage, and statues. The thing that most impressed me was the simplicity of it. It was very easy for an older child to understand, but interesting enough for an adult.
Not only was the DVD simple...it was very family friendly. (Marshall Publishing is a recipient of the "Family Approved Award", and I can see why.) Many times when we watch documentaries on TV, we have to be more cautious about the content. I appreciated the family-friendliness of this DVD.
I wondered how an exploration of the West that took 2 years could be boiled down to 35 minutes...but Marshall Publishing did a superb job. The film gave background before the exploration, the main events and highlights of the journey and it even told what happened to (many of) the crew after their return. (When asked what they learned that they didn't know before, my boys told me they had never heard the stories of what happened to some of the crew after their big journey out West was over. This was very interesting to all three of us.)
I am so glad that my children (and I) had the opportunity to watch "The Historic Expedition of Lewis and Clark" DVD. It really helped for the books my boys have read to "come alive". It also helped to "pull it all together". Comments from my boys included, "Good", "Very Good" and "Interesting". We will be taking this DVD along with us as we travel out West. The Arch in St. Louis is one of our last stops. We will stand where Louis and Clark stood at the end of their journey. My entire family will undoubtedly recall the things we saw on the DVD and appreciate even more the sacrifice, integrity and courage this crew had so many years ago as they explored the unknown.


A Special Deal for All Homeschoolers Reading My Review:
The normal price for the
Lewis and Clark DVD
is $24.95. NOW it is just $19.95. You can get FREE FIRST CLASS SHIPPING on the DVD by entering this code: TOS27 at checkout!!! Item #KVFD-111
Marshall Publishing Contact Information:
123 S. Hough St., Barrington, Illinois, 60010
Phone: 224-238-3530
Disclaimer: As a member of the TOS Crew, I received this product, at no cost to me, in exchange for my honest review. All opinions are mine.
Marshall Publishing offers a wide variety of DVD's. Topics range from animals to Spanish to Fire Trucks and Comedy. "The Historic Expedition of Lewis and Clark" was just one of four DVD's that the TOS Crew reviewed. Other DVD's that were reviewed are:
To see reviews on all these DVD's from Marshall Publishing go
HERE.