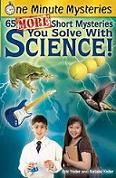 Brief Overview
65 MORE Short Mysteries you Solve with SCIENCE
are part of the "One Minute Mysteries" by
Science Naturally
. This is a follow-up to the original book,
65 Short Mysteries You Solve With Science!
They are co-authored by a father-daughter team, Eric and Natalie Yoder. This
award winning
book contains 65 science "mysteries" that you read aloud to your kids (ages 8-12). (Your kids can also read them to themselves, they just have to solve the mystery before they turn the page!) The science mysteries are divided into 4 main sections: Life Science, Earth and Space Science, Physical and Chemical Science and General Science. There are two smaller sections at the end of the book: "Five More Minutes of Mysteries" and "Bonus Section: One Minute Mysteries: 65 Short Mysteries You Solve with Math." To help you locate even more specific topics, there is an index.
What our Homeschool Thought of the Book~How it Worked for Us
We use this book everyday after lunch. I read 2-4 mysteries each time. This has worked out perfectly for us. I just leave the book on the dinner table and read a few while my boys are finishing up their meal. After reading the mystery, I give my 12-year-old the first chance at solving the mystery. If he is stuck, my 14-year-old will give his answer. Some of the "mysteries" are more challenging than others, but I feel that the suggested age range of 8-12 is pretty accurate.
There are 2 things that I have found to be of benefit to us from this product. 1) Science Review. Since my kids are 12 and 14, they should know pretty much all the answers in this book. It has given me (and them) confidence in knowing that they really have learned a lot about science over the years. The review has been great to make those science concepts stick even more. 2) Listening Skills. After the first 2 or 3 mysteries, my boys and I realized just how crucial listening skills were in solving the mysteries. This is a benefit I did not see coming...but an area I'm glad we're working on.
My kids look forward to these mysteries each day. On the afternoons when dad is home for lunch, he enjoys being in on the mysteries! I love how the Yoders have made science part of everyday life in these mysteries, and how they have become a part of our day-to-day homeschool routine.
Cost of Product
The paperback is available for $9.95. The book can also be purchased as a Kindle Ebook, for your B&N Nook, Kobo or iPad.
Sample
Click HERE
to read samples of the science mysteries. Have fun trying to solve them!
Additional Products Available from Science, Naturally
CLICK HERE
to find other great titles like:
65 Short Mysteries You Solve With Math
,
65 Short Mysteries You Solve With Science, 101 Things Everyone Should Know About Math and 101 Things Everyone Should Know About Science.
Special Price for My Readers!
Science Naturally is offering a special deal for the readers of the TOS Reviews! You can purchase any three books for only $19.95 with a shipping rate of just $2.95. The retail price for three books with shipping is $35.80 (a $12.90 savings). Just enter coupon code 3SPEC in the shopping cart at
www.ScienceNaturally.com
.