I have found the two best ways to learn a concept is through repetition and making a game out of it.
IXL.com
does both. IXL is a computer program where your child(ren) can practice math or language arts skills. Their motto is: "Practice that feels like play."
My 7th grader and I gave the
online math membership
a try. I wanted to do this because I chose for him to skip 7th grade math and go straight to Pre-Algebra. (I felt our 6th grade math was very thorough and covered most everything well.) I did want to make sure there were no gaps in his math skills--so IXL sounded like a great idea!
How it works:
Like most online programs, the first matter of business is to establish a password and user name. The parent does this along with creating a student profile. You can even choose a fun icon that your child will like. I chose a soccer ball for my son. (He said, "Hey!, how did they know I like soccer?") When your child is ready to practice, they just click on their icon. (There is room for a second student and there is a parent icon as well.)
After the proper icon is clicked, a screen will appear with choices from kindergarten through Algebra 2. Your child will click on the grade level s/he wants to practice on. This will take them to another screen where all the skills are listed for that grade level. (7th grade math has 254 skills!) The skills are grouped together accordingly. (i.e. Percent skills are listed altogether.) Your child can then click on the skill that they want to work on (or that you assign them). When your child is choosing from this list, they will be able to see which skills they have mastered (There will be a gold ribbon beside the skill.) and what score they have so far. This makes for easier selection.
Once a skill is selected, the practice begins! The questions begin very simply, then get tougher as you move through. The questions are asked a variety of different ways to help insure mastery. (For example: One problem may ask which numbers are prime, while another may ask which are not composite.) If your child gets an answer correct, the IXL program gives immediate feedback by saying on the screen, Fantastic!, Correct!, You Got it! or some other encouraging words. There are many other motivators, like watching your "smart score" getting closer and closer to the desired "100." If a question is missed, your score goes down several points, and you back up and have to answer several more "review" questions before moving ahead in your score. Your student will also be given an explanation as to why they missed the problem. Once you reach a score of "100" you will get a "well done" on the screen and a message that you have mastered the skill and that you have been awarded a gold medal. You can then take a break, or continue practicing. The whole process is very simple and straightforward. Not a lot of bells and whistles...just what's necessary. (But visually appealing!)
I love how the "Well done" is coordinated with the season!
How we used it in our homeschool:
Each day, along with my 7th grader's Pre-Algebra assignment, I give him an IXL assignment as well. He practices/plays about 20-30 minutes per day on the 7th grade skills. I have not had to make him do this at all. In fact, he usually chooses to do it first! Since he is pretty self-motivated, I have not assigned certain skills to cover each day, although today I told him the goal for the day was to master one of the skills.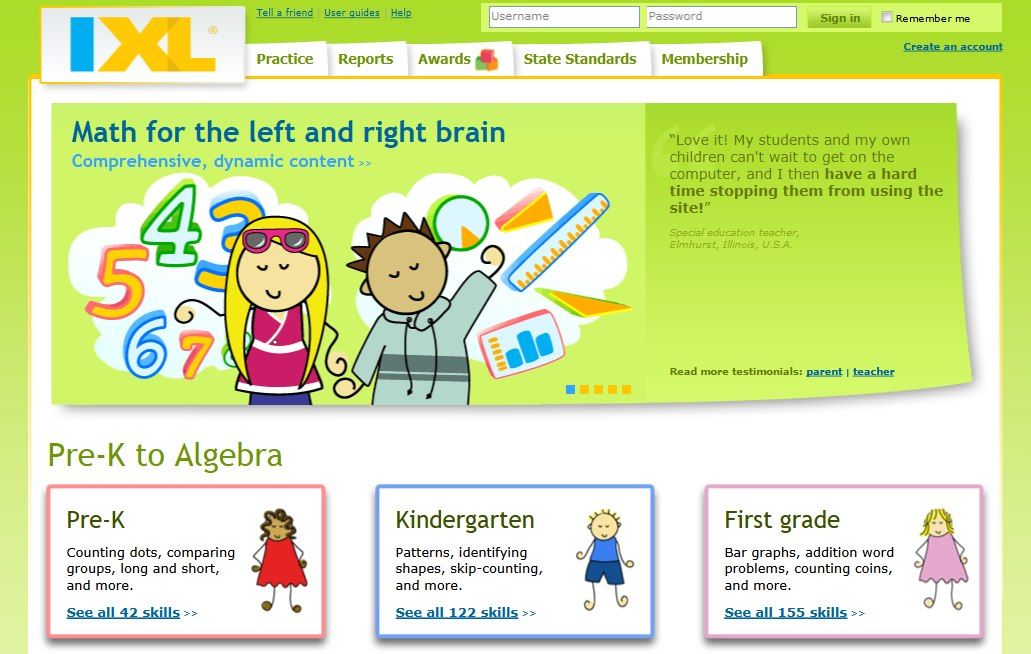 The Parent Connection:
One of my favorite things about using IXL is the updates I get each week. I get an email when my son has completed 100 math problems. I get a weekly email update letting me know the skills he is working on, his proficiency and how much time he has spent working on problems
Although this program is primarily student directed, a parent or teacher is always needed (as with most curriculums/programs!) to give some guidance. I found it helpful every week or so to sit and watch my son as he works through the problems. I check to make sure he is taking time to work out some of the more complex problems on paper as needed. I also think this is a good time just to "check-in" so that he knows that I know what he's learning. It is also a good time for some verbal "atta-boys" from Mom.
Similar Products:
You may also be interested in the
online language arts membership
. We have not used this part of the program since it is geared for the elementary grades. If you have a 2nd-4th grader, be sure and check out what my fellow crew members thought about it on the link below.

Age Range:
Pre-K through 12th grade
A few final thoughts...
*This program could almost stand alone as a curriculum. I have watched my son learn and master concepts that we have not covered. So it is possible. It works best, obviously, as a supplement to other curriculums--but it is a very thorough supplement!
*I love that your child learns from his/her mistakes. What a great way to learn!
*Some kids could have the tendency to move quickly through the program, just clicking answers at random. They will find that this does not achieve much, since the program sets you back several steps once you miss a problem. I like how this is worked into the program to help prevent willy-nilly answering.