How do your children prefer to learn history? If your kids are like mine, "textbooks" is not at the top of your list! How about through
adventure
and a great
story
? The
Heirloom Audio Production's
Under Drake's Flag
will take your children on a 2 hour thrill ride back into the 1500's as they board the ship of
Sir Frances Drake
, a renowned seaman. Your children will not only learn about sea voyages of the Elizabethan Era, but will be challenged by the characters to live a courageous and upstanding life.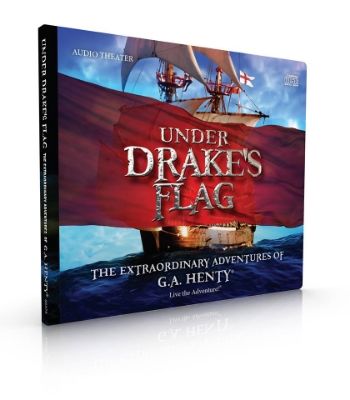 How we used Under Drake's Flag in our Homeschool
:
The day before leaving on a 6 hour car ride to the mountains, we received Under Drakes Flag! I was thrilled. We always pack books on CD to take on long trips. We put the Under Drake's Flag CD in on the last 2 hr. leg of our trip. Wow, did that make it go by so much faster! My boys (ages 13 and 16) loved it! It completely held their attention. My husband and I were very entertained as well.
My youngest son recognized several characters in Under Drake's Flag from a book he was currently reading, The Adventures of Tom Sawyer. I thought that was so neat! He was pretty excited about it too. We had a great conversation about how so many times one work of literature can help you understand other works of literature.
Under Drake's Flag is not all non-stop adventure. There is humor as well. Older children and adults will will most likely "get" the funny parts. Biblical morals and scripture are an intregal a part of the story.
I appreciated the great vocabulary in the story. I always love for my children to hear different vocabulary words used in a story in such a way that the definition is understood in context. (Vocabulary is also covered in the included study guide.)
There were parts of the package that we did not take advantage of. There is a wonderful study guide inside the CD case. We chose not to use it since we had plenty of discussion without it--and the fact that my kids were on "summer vacation." There is also a Bible Study at the end of the study guide.
Other Ideas for how to Use this Product:
*This would make a fabulous Christmas present for any older boys on your list!
*Would be good to use with a group of homeschoolers or kids at church. You cold have a lot of fun making a day out of it. Theme decorations, group listening and a Bible Study to top it off at the end.
*Make this a part of your history study of the Elizabethan period.
*Great jump start to a writing activity.
Historical References
:
The Spanish Inquisition
Slavery-Africans
Plymoth/Americas
Age Range:
Ages 6-Adult
Please note that there is torture, killing and fighting involved in the story.
(Not gratuitous, but it is there.)


Favorite Quotes from the production:
"There is no stronger wind in a man's sail."
(Speaking of God's power, protection, and presence.)
"If we're not men of honor we're not men at all."
"Perhaps God himself is trusting you with this trial."

My favorite part of the entire CD is reading/hearing the prayer of Sir Francis Drake:
"Disturb us,Lord, when we are too well pleased with ourselves...When we arrived safely because we sailed too close to the shore..."
Cost of Product:
$29.95
(2 CD set)
Similar Products:
"Instant Access" MP3 Download Version of Under Drake's Flag: $20

Family 4-pack (With LOTS of bonuses!): $99.97