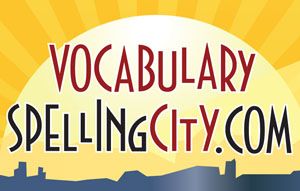 Vocabulary Spelling City
is an interactive website for all ages which includes vocabulary, spelling and writing activities. There are a wide range of games and activities from beginning spelling to vocabulary practice for the SAT. Teaching and Testing options are also available. The mission of Vocabulary Spelling City is to provide an "efficient game-based study of literacy skills using any word list."
A user can choose to use only the free options on the website, or to purchase the premium package. Listed below are the activities included in each:
Free Activities
:
Spelling Test Me

Spelling Teach Me

Match it Sentences

Which Word? Sentences

Sentence Scramble

Sentence Writing

Paragraph Writing

Word Search

Hang Mouse

Unscramble

Audio Word Match

Missing Letter

Alphabetize

Handwriting
Vocab Test Me

Flash Cards

Match It Definitions

Which Word? Definitions

Word-O-Rama

Sentence Writing
Paragraph Writing
Word Find
Letter Fall
Speedy Speller
Parts of Speech
Premium Crossword
More coming soon...
* A few other features of the premium package also include: No advertisements and individual student logins.
*The cost of the premium package is $29.99/year for a family with 5 or less students using the program. Spelling Vocabulary City is also set up to use in a classroom setting and can be purchased for $49.99/year for a class size of 25 or less. School options are also available.

Contact information for Spelling City:
(954) 357-1150
Our Homeschool's Experience:
Our family used both free options and the premium package. My 11-year-old son has really enjoyed Spelling city. ( I enjoyed several of the games, too!) The feature that attracted me most to Spelling City was the vocabulary activities.
One of the best things about this online program is the fact that you can enter in your own list of words. (You may also use any of their ready-made lists.) Our homeschool curriculum gives plenty of vocabulary words to go along with our readers/read-alouds. In the past, my children have simply looked up the words in the dictionary and written the word/definition in their vocabulary notebooks. We many times talked about the word as we came across it in the reading. I always felt the need to do more--to give them more practice and interaction with the words. Spelling City has worked out perfectly for our need in this area.
Once you establish your password/set up your homepage, etc., you can start making lists. I created a list this week for a book my sons are reading, Black Horses for the King. There were 26 vocabulary words. After I entered all the words, the program showed me what definitions and sample sentences Spelling City has in their database. I can go with what they have or I can change the definition and/or sample sentences as needed. I REALLY like this feature. I was able to use sentences from the reader for the sample sentences. The only disappointment I had was that several of the words I thought should be in their database were not. I had to add lots of definitions myself. (I have to say, though--that by the end, I had my vocabulary lesson!)
My son looked up all 26 of his vocabulary words for the first section of the book. He wrote them in his vocabulary notebook. (It's like a mini-dictionary...my sons have used the same notebook for three years. There are "A" pages, "B" pages, etc.) He then played 3 different vocabulary games from the premium package. During the first game, he made a lot of mistakes. On the second game, he used his vocabulary notebook for a reference if he got stuck. By the third game, he did not use the vocabulary notebook, and was able to complete the game quickly with just 2 mistakes. I was so proud and excited for how quickly he learned!!
My 11-year-old had also enjoyed playing "Hang Mouse", "Letter Fall" (a clever spelling game), "Alphabetize" and "Word Find". I found these to all be great teaching games, the graphics and sound were well done. In his words, "Spelling City is fun."
Our family's homeschool will be using Spelling City for the next year. I'm so grateful to find a program that is custom-made for our vocabulary needs.

Go to the
Schoolhouse Review
to check out what other reviewers thought of Spelling City and how it worked in their homeschool!
Disclaimer: As a member of the TOS Crew, I received this product, at no cost to me, in exchange for my honest review. All opinions are mine.