Pablo Picasso once said, "Every child is an artist. The problem is how to remain an artist once he grows up." I have had this basic thought (though never as eloquently stated as Picasso) ever since my boys were in preschool. I would often gaze at their paintings, drawing and play-dough sculptures and say to myself, "Now that is ART!" I don't think they would have fetched a high price at an art auction....but it was art nonetheless. It was art because they didn't copy it or try to do it exactly like someone showed them. They were creative with the mediums they had to work with.
That's why I really appreciate they way
ARTistic Pursuits
teaches art. They give children the tools they need and then help to guide them on their journey of becoming an artist. I had been frustrated in the past with using art books to teach my children art. It seemed that they left little to the child's imagination, or way too much for mom to sort through. ARTistic Pursuits points the way, and the child then is free to use the basic parameters and tools to create. The curriculum could not be any easier for mom (or dad!). Just enough information is given to make sense of the assignment.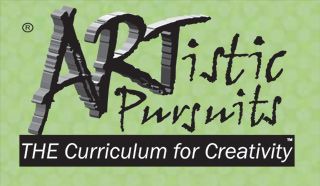 My boys are 6th and 8th grade, so the
ARTistic Pursuits for Middle School (Book 1)
was perfect for our homeschool. This curriculum focuses on the elements of art and composition. (Middle School Book 2 focuses on color and composition.)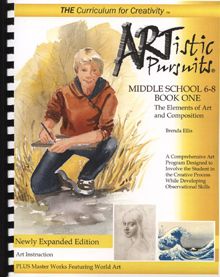 Before I get to the ins an outs of this art curriculum, it's important to know the art materials you'll need. ARTistic Pursuits gives a
LINK
on their website so it's easy for you to purchase exactly what you'll need. (You can click
HERE
to find out the exact supplies needed for Middle School, Book 1.)We already had some of the supplies, but a few we still had to purchase. Of course it's always so much fun to get new art supplies! (A new one for us was the sandpaper block...something we'd never used or heard of before!)
This art curriculum is designed to be completed in one school year (32 weeks). Two classses are given each week, giving an hour to each lesson. There are 16 units in this art curriculum. The units range from Space, Line and Texture to Perspective and Proportion. Within each unit, there are 4 Lessons:
1st Lesson of Each Unit: Building a Visual Vocabulary
This is where you child will be asked to look for something particular in his/her environment. For example, in Unit 2, Lesson 1, the assignment was to: "Go outdoors and look for an object from nature that has something unique or interesting about it. Make a drawing of it...." Here's my 6th grader's drawing . He's adding some finishing touches. He really enjoyed being outside for this assignment!
2nd Lesson of Each Unit: Art Appreciation and Art History
This is something important to me when looking at either an art teacher or an art curriculum. Your child will see how the masters used the topic they are studying (space, for example). The student will then apply what s/he has learned to create a new work of art. The above picture is from Unit 1, Lesson 2. My sons did a lesson related to "The Portrait of an Elephant, Dal Badal, Chasing His Attendant".
3rd Lesson of Each Unit: Techniques
Students practice learning how to use materials and tools. For example, in the above 2 pictures my oldest child practiced using sharp, pointed pencils in the top picture and broad-tipped flat pencils in the bottom picture.
4th Lesson of Each Unit : Application
This is where your child does a final project incorporating the new techniques they learned. In Unit 1, Lesson 4 the assignment was to read the story of The Blind Men and the Elephant and to draw an illustration. In doing so, the student was applying their learning of "space", which is what Unit 1 is all about. The student had to be very mindful of where to place the elephant and six men in the drawing.
The Cost and Similar Products
ARTistic Pursuits for Middle School, Book 1
can be purchased for $47.95. If you are looking for an art book for younger children or highschoolers, those are also available. Go
HERE to
see all the options. You'll also want to read all the ARTistic Pursuits
REVIEWS
written by the rest of the TOS Review Crew.
ARTistic Pursuits really works with my kids. They are learning new techniques and using materials/mediums that they've never used before. I was a little unsure of my children actually being able to learn art without an art teacher...but ARTistic Pursuits really does teach! As we have incorporated it into our weekly schedule, I have seen how art truly is an important part of the total education of a child. The only negative about this curriculum? I just wish we'd started using it earlier!
I remember back when my boys were "little", and they would be painting or drawing a picture. Someone would say to them, "You may grow up to be and artist one day,"
I'd then reply with, "Oh, he is an artist now!". I believe that ARTistic Pursuits will help you keep the artist in your child!
Disclaimer: As a member of the TOS Crew, I received this product, at no cost to me, in exchange for my honest review. I was not required to write positive review nor was I compensated in any other way. All opinions I have expressed are my own or those of my family. I am disclosing this in accordance with the FTC Regulations.