We struck gold when we received
Tunnel of Gold
by
Susan K. Marlow
and Kregel Publications to review--perfect timing for summer reading! If you have big readers in your home like we do, you know the frustration of trying to find decent books for your kids to read, especially during the summer months when they have more free time to choose their own books.
Tunnel of Gold
proved to be a book we do not have to worry about being on our shelf! This is definitely a Christian book, not just a book with a "moral". Scripture and Christian principles are woven throughout, while still maintaining an exciting story. (In fact, I've recommended this book/author to a church librarian who was in need of good children's books.)
Tunnel of Gold
, by Susan K. Marlow, is from the "Goldtown Adventures" series and is book #2. (It stood on its own without having to read book #1.) Book #1 is
Badge of Honor
. Book #3,
Canyon of Danger
will be making an appearance in November of 2013. Susan K. Marlow has written other series as well:
Circle C Adventures
and
Circle C Beginnings.


Tunnel of Gold is about a 12-year-old boy, Jem Coulter, and his adventures in a gold mining town in California. The year is 1864. He finds himself in a tough situation with no easy answers. Will he learn to trust God and do the right thing? (The book has 18 short chapters and is 144 pages long.)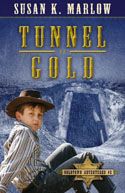 My 12-year-old son read
Tunnel of Gold
as part of his summer reading. I had a fun time interviewing him about his reading of the book:
An Interview with my son:
1. What did you think about the book? The introduction was not as exciting as some other books. But, after 3-4 pages it got much better. I was not too enthusiastic about reading the book in the beginning, but it got good after that.
2. What was your favorite part? I liked the fighting parts. The ending was pretty cool, I liked that.
3. Who was your favorite character? Either Jim or Chad.
4. Who do you think would enjoy this book? A boy about 10 years old who likes cowboys.
5. Was it easy to read? Definitely.
6. Tell me about the pictures in the book. There were just a few. The pictures were not very big. I wish they had been more detailed.
7. Did you learn anything about history by reading this book? Most of the history part I already knew, but I learned a lot about mining for gold. I learned that there are 3 ways to get gold: panning for gold, mining for gold and crawling through "coyote holes" to get to the gold.
8. Talk about the Christian aspects of this book. This was a Christian book, but not "in your face" Christian. It had a lot of Bible verses and stuff like that. I thought that was good.
9. What were the Christian principles emphasized in the book? To obey your parents, God is always with you and forgiveness.


A few notes from "Mom":
I really like that there is a "Historical Note" at the end of the book. I love to wrap up a historical fiction with this information. Not all historical fiction books include this, so I appreciate the added effort on the part of the author.

I think if the cover of the book had been a little more realistic and showed some of the action/adventure from the story, my son woud have been more inclined to want to read it. As it turned out, he enjoyed the book anyway--but a better cover could have helped to make it more enticing.
Cost of Product: $7.99 for one book, or $13.95 for books #1 and #2.
Age Range: The Goldtown Adventures book series is recommended for ages 9-13.