How would you like to learn math taught to you by a smart little bee with a baton? If this sounds fun to you and your child, "Professor B" Math may be just the thing for you. This little bee with the cute bow tie and glasses will challenge and engage your student--whether they are learning basic math concepts for the first time, brushing up on their mathematical skills, or receiving tutorial help.
I shared with my sons (ages 11 and 14) that we would be having a "Summer Term" as we went through the months June and July. We almost always do something during the summertime that looks a little like "school". Keeping them reading is not difficult, but this year I wanted to make sure to "add" in some math so we wouldn't have to do as much review/practice come August. I was excited for the opportunity to use and review the
E-LEARNING
program offered by "Professor B" Math.
Basic Facts:
Description of Product: "Professor B" is an online basic math program that teaches more than just the steps of mathematics. "Prof. B" is more about connecting it all together and the WHY of mathematics.

Age/Grade Range: Pre-K to 8th grade (or for older children who need remediation)

Mailing Address: Professor B Enterprises, INC, P.O. Box 3856 Suwanee, GA 30024
Basic Instructions for Use of the Program: 
The placement test will reveal whether your child should be in Level 1 (Pre-K-2nd grade), Level 2 (3rd-5th grades) or Level 3 (6th-8th grades).

If you wish to purchase the program, payment can me made monthly or you may sign-up for a one-year contract. The monthly cost will depend on how many levels you purchase. (If you choose to pay for a whole year up front, you'll receive a free "Professor B" t-shirt and coffee mug.)
Purchase one level: $20/month*
Purchase two levels: pay $15/month for the second ($35/month)*
Purchase three levels: pay $10/month for the the third ($45month)*
(*These are the prices listed on the "Professor B" website at the
time of the writing of this review. Prices are subject to change.)


An update from the Vendor (as of 7/16/12):
We also have a new price change on our yearly subscription. Our program can now be purchase for $100 for 3 years access to each level. Our IT department is working on changing the site. However, if the customers call 678-765-6655 we will be able take their order and honor the new price.
After purchasing the program, you will be given a password to gain access online.

To get started with the first lesson, members click on "E-LEARNING" on the "Professor B" website and then proceed. Then click on either level 1, 2, or 3.

After you arrive at the selected level, go the the "Table of Contents" to select the lesson you will begin with.

You watch a "video" (no sound) of "Professor B" teaching the math lesson. There will be step-by step instructions given, as well as practice for the student. These vary in length.

After watching the video, you may then print out the worksheets that correspond to the lesson.

Everything you need for the program you will receive via their website. There are printable worksheets to go with each lesson. (You also may need some scrap paper and/or notebook paper for some of the lessons.)
Our Homeschool's Thoughts and Experiences:
My boys are working on Levels 2 and 3 this summer. I used this program not to teach them anything new necessarily, but to simply review math concepts and keep those brains working. I found this program to be well suited to our needs. I could also see how this program would be perfect for a child who is struggling with basic math facts and/or concepts. "Professor B" would make a great, yet inexpensive tutor. (They advertise as teaching 3 years of math in one year. This could really serve to "catch" a student up if they are falling behind.) I do not, however, see this as a complete and comprehensive math curriculum. There are several math concepts the E-LEARNING program does not include, such as geometry and graphs.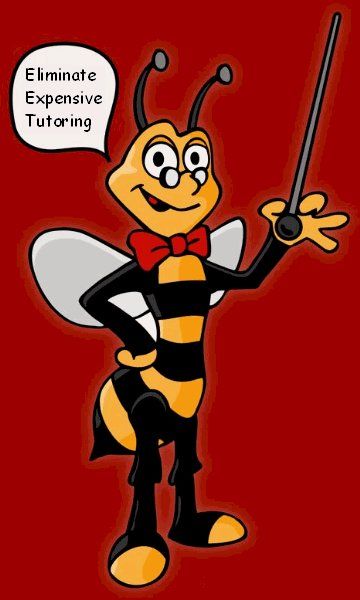 One of my favorite things about the E-LEARNING program are the teaching"videos" themselves. One of the first things I noticed was that it is not very fancy (There is not even sound.) To me, this is a positive, since it keeps my boys and I from being distracted by lots of bells and whistles. The bee simply moves around as he instructs. I read what the bee says in his word "bubble", so it helps me to stay focused on the lesson as well. In this way, I teach as the bee teaches. This is not a program for your child to do solo. It is parent directed. I am enjoying my children and I doing this together.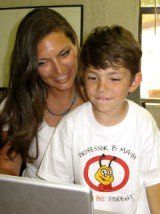 The lessons/videos are simple to navigate. There are skip, play and pause buttons. If my kids get stuck or need a little more time to think, I simple hit the pause button. This feature helps alleviate frustration with the lesson going too fast. On the other hand, we also love the skip ahead button. That way, if my boys are moving along rapidly, they can go at their own speed. There is even a "back" button if we need something repeated. We have found it very helpful to be able to go at our own pace.
One of my goals with my youngest son was to over-learn his multiplication tables. I wanted him to know them so well, that he wouldn't have to stop and think about the answer; he would just know it. We are currently spending time with the multiplication lessons in Level 2. He is taught and "drilled" in a way by "Professor B" that is new to him. I love this. He is being taught previously learned things, but from a different perspective. I think this is helping him to solidify in his mind the math facts/concepts we have been working on. Learning math from several angles...I like that.
My oldest son is continuing to work on Level 3. Again, I just wanted to keep his math mind sharp during the summer. He, like my younger son, is learning math from a different perspective. I think this is helping to impress certain math concepts into his mind. Some of his quotes as he worked through several lessons were: "This is really making it clear." and "This will help me with my math."
His worksheet he did after the instructional video. I love how he could "see" the multiplication of fractions.
If you'd like to learn even more about "Professor B", you can check out their website at profb.com.
To read other TOS reviews on "Prof. B", click the link below.
Disclaimer: As a member of the TOS Crew, I received this product, at no cost to me, in exchange for my honest review. All opinions are mine.